Meet the Author with Gaspar Pedro González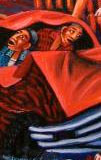 Meet the Author with Gaspar Pedro González
(recording)
In our first "Meet the Author" session, Gaspar Pedro González, one of the few authentic living Maya authors published today, talks about his latest book, 13 B'aktun—Mayan Visions of 2012 and Beyond (see Book Summary below for more info), and answers questions from the audience about a broad range of topics, ranging from questions about the Sacred Calendar to what 2012 means for the Maya.
During the live event, we gave away one free copy of 13 B'aktun. We selected the name of one of the participants at random from a special handmade Mayan hat sent to us by a Mayan Elder in Guatemala. Congratulations to the winner!
This event is now available for download.
If you'd like to purchase Gaspar's book, you may do so online at North Atlantic books.
Book Summary:
Framed as a fictional dialogue between a contemporary Mayan father and son, the book explores such questions as "Will life continue on Earth?" and "Will there be another creation at the end of this era?" The father imparts the knowledge of his ancestors and shares his direct mystical experiences that bring alive traditional beliefs about creation and the divine purpose of humanity, the Earth, and the universe. Through the father's poetic words, the author helps us to critically reflect on our existence, the state of the modern world, and human destiny.
Author Biography:
Gaspar Pedro González is a prolific Maya author and intellectual who has written several books and articles on topics related to Mayan culture. An official for the Guatemalan Ministry of Culture, he also teaches at the University Mariano Gálvez in his native Guatemala. He has been honored by the Mayan Q'anjob'al linguistic community and has presented at international events including the conference of the Latin American Studies Association and UNESCO. He has been invited to speak at over twenty universities throughout the United States, Europe, and Latin America.