Ancient Wall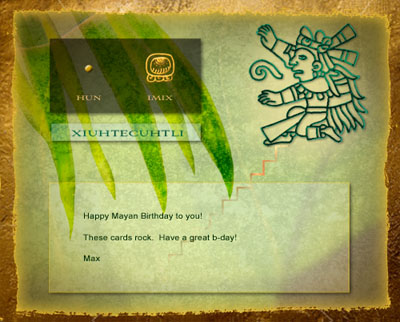 SACRED MAYAN BIRTHDAY
Blending modern design, lush rainforest foliage and classical wall texture, the Ancient Wall Mayan birthday card pays homage to the symbiotic relationship between jungle and city that characterized ancient Mayan culture.
Send the Ancient Wall Mayan birthday card to a friend or loved one—just fill out the fields in the lower right, along with a personal message, and our Mayan eCard interface will calculate your friend's Mayan birth sign and embed the glyphs directly into the card when it's sent.
If you like these cards, please tell your friends or share this page! (see social media links to the left)
Each card has been designed with our commitment to the principles of sustainability in mind—no paper or ink has been used and no carbon emissions spent in sending the card, other than the energy needed for our servers.